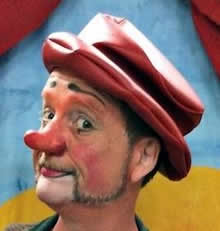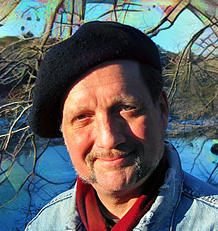 The man behind Bonzo Crunch, Rik Gern currently resides in Austin, Texas where he has been voted "Favorite Kids Entertainer" by the readers of Austin Family magazine and has been a regular entertainer at the Governor's Mansion, Old Settlers Bluegrass Festival, Fantastic Magic Camp, schools, libraries, and birthday parties and private functions too numerous to mention.
Rik/Bonzo Crunch can be seen in the Disney video, "Mickey's Fun Songs: Let's Go To The Circus" as well as the video, "Barney's Super Singing Circus," the picture book "Barney Goes To The Fair, and "Barney's Super Singing Circus in Spanish".
Rik's Story
Rik Gern has been a grassroots entertainer since 1978 when he joined Chicago's "Vagabond Clowns" and received their "First of May" award. Rik's interest in physical theater led him to join the Opus Mime Ensemble, where he toured Chicago's schools performing a blend of gymnastics and Decroux style mime as part of the "Urban Gateways" program. The same interest also led him to study at the Dell 'Arte School of Mime and Comedy (School of Physical Theater) and to be featured in their holiday play "A Child's Christmas in Humboldt".
After studying at Dell 'Arte, Rik spend the next five years alternating between Texas and Australia. While in Texas Rik wrote and performed in clown skits and roving entertainment at the Schlitterbahn Water Park in New Braunfels. His time in Australia was spent street performing (busking) and entertaining as a guest artist with the Ship-O-Fools theater company.
Five years of criss-crossing the Pacific was followed by five years in Chicago, during which time Rik was regularly utilized by the Mayor's Office of Special Events to enliven the Taste of Chicago, Viva Mexico!, and neighborhood festivals across the Windy City.
In 1992 Rik attended Ringling Brothers Barnum and Bailey's Clown College and then toured as a clown with the Red Unit of "The Greatest Show On Earth" during 1993 and 1994. Rik returned to Ringling Brothers in 2005 and 2006 to serve as Goodwill Ambassador, or Advance Clown. Those two years utilized all the skills learned in the previous two-and-a-half decades, as his responsibilities included radio and TV interviews, teaching workshops, daycare, library, and school assembly programs, hospital and senior center visitations, half-time entertainment at basketball and hockey games, and all sorts of other imaginative appearances dreamt up by a very creative team of promoters and publicists.