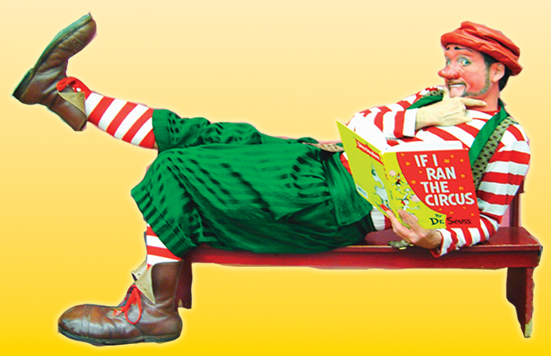 As a lifelong "bookworm" Bonzo Crunch takes special joy in performing for libraries. In addition to his popular comedy juggling/magic show, Bonzo Crunch emphasizes not only the importance of reading, but the value of the library as a community resource and the special role of the librarian as a liaison between the community and the wonderful world of books. You will be charmed by his reading of "Olivia Saves The Circus".
In addition to a fun performance that will keep kids of all ages engaged, Bonzo Crunch offers great take-home bookmarks and coloring pages!
Rik Gern has been entertaining family audiences for nearly four decades. Inspired by the classic slapstick comedians of the '20's and '30's, his training includes the Dell 'Arte School of Mime and Comedy and the Ringling Brothers Barnum and Bailey Clown College.
He has performed from the streets of Sydney, Australia to cities all across the United States and Canada, in venues ranging from A Taste of Chicago to the Texas Governor's mansion. After touring with the Ringling Brothers Barnum and Bailey Circus, Rik served as an advance clown, or "Goodwill Ambassador" for The Greatest Show on Earth. Though no longer on the road full time, he has spent nine years promoting literacy by bringing the Reading With Ringling program to libraries across Texas.
Rik currently lives in Austin, TX, where he performs as Bonzo Crunch: Fool at Large. Bonzo Crunch has been voted "Favorite Kid's Entertainer" by the readers of Austin Family magazine. He's been a long time favorite at the Austin Symphony's "Children's Day at Art Park" and has been teaching and performing at Fantastic Magic Camp for nearly 20 years.
FREE UPON REQUEST WITH BOOKING: Receive a customized 8 1/2" x 11" Bonzo Crunch poster file (view samples) to include with your invitations. Just download, print and share with your guests!